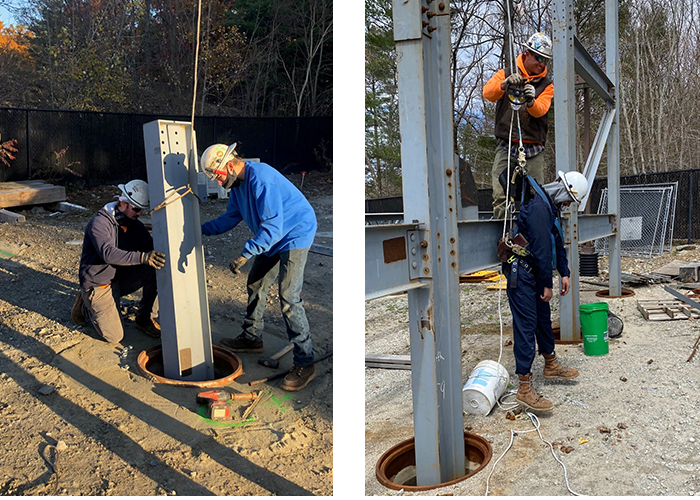 Our Training Process
MAS is committed to providing quality training at every level of the company.
MAS understands that providing training and development allows our employees to grow. As a result, they will continue on as an integral part of the team for years to come. Our training and development programs are a priority, not an afterthought. See below for a selection of the programs available to our employees.
Orientation
During Orientation the MAS Safety Manager and other company professionals spend time with new employees. Required training for appropriate roles are accomplished during this time early on. For field employees this includes important safety programs like fall protection, Sub-part R, boom and scissor lift training, harness wear and use, ladder set up and inspection procedures , etc.. An overview of critical policies, safety incident reporting, and organizational structure are also included during orientation.
Awards
MAS has a quarterly Training and Development Recognition Award. All employees are eligible and winners are selected from those nominated by their peers or supervisors. Cash prizes of $1,000 and $500 are awarded to the first and second place winners.
Apprentice Program
This program involves the following entities and available trades:
MAS Building & Bridge, ABC Massachusetts, Gould Construction Institute & Massachusetts Department of Labor
Carpenter
Construction Craft Laborer
Iron Worker
Training tracking programs
MAS uses training trackers developed by the field leadership to track progression of new workers in their craft as well as those we are training to be new leaders. The system is designed to create accountability for both the trainee and the trainer. These tools include:
Steel Base Task List - for Ironworkers
Steel Lead Person/#2 Training Program - for emerging leaders
Bridge Craft Trainee Checklist - multiple trades
Bridge Foremen Training Checklist
Project Engineer Base Task List
Steel Training Tower
This program is designed to teach ironworkers the basics of structural steel erection. The Tower (pictured above) at our Headquarters in Norfolk, MA can be erected and dismantled as required. Typically the MAS Steel Division employees use this for training brand new ironworkers to familiarize them with construction techniques and safety concerns. The program can be adapted based on individual needs, but is typically run for 5-10 days. These focused days typically involve a Foreman instructor, an experienced Ironworker assistant instructor, and 4 to 5 trainees. The erecting tasks are usually supported by a boom truck.
Third Party Recurring Training
We typically use third party entities for certain recurring training including the following:
Rigging and signaling
OSHA 10
OSHA 30
Hot Work
CPR First Aid
MBTA ROW and Keolis
Defensive Driving
Leader Training
Foreman Leader Course
MAS has a 19-hour Foreman Leader Course that makes use of both MAS generated and NCCER approved content. Topics include, but are not limited to, basic leadership techniques, morning meetings, scheduling, tracking costs/productions, plan reading, etc.
Welding Certification Program
MAS provides 3 Tiers of welding certification, providing an opportunity for those with little previous welding experience and for those who have previously passed Tier 1 or 2. These certifications involve third party training programs to start and on-the job training and practice. Each Tier requires evaluation and a test.
Opportunity Training
MAS has implemented a quarterly Opportunity Training. This program is open to anyone who wants to attend, typically last 1-2 hours and does not always need to relate to construction! Previous and future topics for Opportunity Training include the following examples:
Plan reading
Financial planning/investing
Time management
Leadership 101
Buying your first house
Professional email etiquette
Lull OSHA Training
Knowing your audience and communicating in a way they will understand
Planning, what is the purpose and what is an effective plan?
Guided Project Site Tour
Excel Shortcuts
Guided Meditation/Mental Health
Storage, transport, set up, usage of, and take down of Oxycetelin Torches.